Whale Watching Charters Newport Beach, CA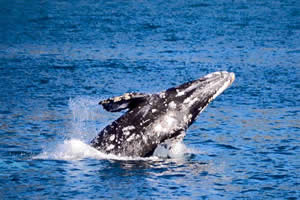 Do you want to have a unique experience by bringing your loved ones to a place that they will love? If you do, then we are the company to call. We offer whale watching charters for individuals, couples, groups, and families from Newport Beach, Los Angeles, Long Beach, San Pedro, Santa Monica, Malibu, Laguna Beach, and Manhattan Beach. Clients praise us for the excellent service that we provide and by taking them to their desired whale watching points safely and comfortably. So if you want to experience charter service that will make you smile, just call us today.
What Makes Our Charter Services the Best?
Among all California-based companies offering whale watching charters, LA Waterfront Cruises is the best. First, our boats have complete amenities that guarantee a comfortable trip: restrooms, deck areas for whale watching and picture taking, a galley where you can buy snacks and beverages, and seats both inside and outside. Moreover, they have modern navigational equipment and are well-maintained, so they are safe vessels to board. Our boats are also manned by professional crews who are knowledgeable about boat operations, navigation, and the various marine lives that can be seen in our tours. All tours have one Aquarium of the Pacific marine mammal educator who will give outstanding information on the various marine lives that can be seen along the cruise destinations. All these qualities are geared towards giving our clients the best experience possible.
Our whale watching charters will take you around prime whale watching spots across Southern California. You can expect to see various whale species swimming in their natural habitat: Blue whales, Gray whales, Orca, Humpback, and Fin whales, as well as Bottlenose and Common dolphins.
We have daily whale watching schedules that you may choose from, depending on your availability. Moreover, we can make arrangements to take you to various attractions in Los Angeles: Universal Studios Hollywood, Griffith Observatory, Hollywood Walk of Fame, The Getty Center, and Olvera Street. Meanwhile, if you want to spend extended days with your loved ones, then we could make the booking in select hotels and inns, including Terranea Resort, Crowne Plaza, Vagabond Inn, Doubletree Hotel, Sunrise Hotel, and Best Western.
Competitive Rental Rates and Personalized Services
Our whale watching charters are priced very competitively, which allows us to serve the most number of customers possible. We can even create custom packages for clients in Newport Beach and patrons from nearby cities – from the schedule and the location to visit and other amenities that we will provide. Additionally, the services that we offer are highly personalized to ensure that clients receive the attention and service that they need. For us, each client has distinct desires, so we never adopt a one-size-fits-all approach.
If you demand only the best kind of service for your whale watching charters, then we urge you to call us now at 310-547-9916. You won't find a better company that can ensure a safe, fun, and unforgettable cruise experience for you and your companions than us. We can serve you anywhere you may be in Newport Beach, CA or in another city that we serve. We look forward to serving you.