Whale Watching Tours Los Angeles, CA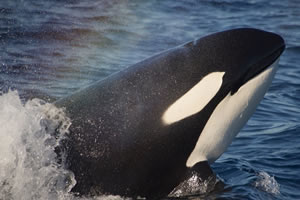 LA Waterfront Cruises is the best service provider of whale watching tours in California and primarily caters to clients from Los Angeles, Long Beach, Newport Beach, San Pedro, Santa Monica, Malibu, Laguna Beach, and Manhattan Beach. We offer extraordinary tours that are truly memorable and fun, whether for young kids or seniors. We have experienced crews, modern boats, and well-thought-out itineraries that guarantee an experience our customers won't forget.
Call 310-547-9916 for inquiries about our tour packages and rates.
One-of-a-kind Whale Watching Experience
Whales are some of the planet's most-loved species. They may look intimidating to some, but they are absolutely gentle giants that are mesmerizing to watch in their natural habitat.
Our whale watching tours are designed to ensure memorable experience for all participants. The tours range from 2 hours to 3.5 hours depending on the package. During the June-October season, clients can expect to see blue whales, the largest animals on the planet. Meanwhile, they could see playful gray whales from November to May, as these mammals migrate from Alaska to Mexico via the Southern California coastline. Other whale species that you can watch include Humpback, Minke, Fin, and Orca.
Each tour has an expert marine mammal educator who will provide insights into the whales and other marine species that can be seen during the tour. You may ask questions on everything that you will see, and our friendly staff will provide the right answers.
The Best Whale Watching Tours in Los Angeles
There are many factors that make us the best operator of whale watching tours in Los Angeles, CA and nearby locations. Here are some of the benefits that you'll get when you choose our services:
Well-equipped and maintained boats. Our boats are all modern and have low emission and ultra-quiet engines that guarantee zero disturbances to the marine life nearby. Our custom-built catamarans have stadium seating arrangement that guarantees breathtaking views. The boats that we operate are complete with communication equipment and other amenities that ensure a safe and comfortable trip.
Courteous and knowledgeable crews. The people manning our tours are all well-versed and skilled at entertaining guests. They offer excellent background information about the marine species that are regularly spotted along the tour's routes. Likewise, they are very courteous and professional towards each client, and they will make sure that you're comfortable throughout the entire tour.
Reasonable rates. One way by which we guarantee that all clients/patrons are assured of great experience is by offering our tours at affordable rates. Among all tour operators in the state, we offer the most reasonable pricing. With our rates, you can tag along your spouse, kids, and even your entire family for a truly memorable bonding.
Whale watching tours can be truly unforgettable experience that will make you realize just how amazing our planet is. Our aim here at LA Waterfront Cruises is to ensure that residents of Los Angeles and other CA cities get to enjoy such awesome activity. From the start of the tour until the end, we will be by your side, ensuring that you appreciate the awesome marine life and its role in our world.
Please call us soon and let us give you the best whale watching tours possible.