Whale Watching Cruise Long Beach, CA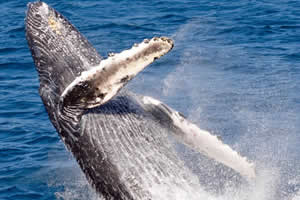 LA Waterfront Cruises offers whale watching cruise all throughout the year. We have been making tourists – local and foreign – truly happy with memorable experience aboard our well-appointed boats. And if you're from the areas of Long Beach, Newport Beach, Los Angeles, San Pedro, Santa Monica, Malibu, Laguna Beach, and Manhattan Beach, why not try our whale watching trips that will make you feel truly close to nature's wonderful marine life?
You may reach us at 310-547-9916 for inquiries and concerns for the whale watching cruise that we offer.
Our Rates and Schedules
We offer budget-friendly rates and daily departure schedules, so you won't find it hard to pick one based on your availability and budget. On weekdays, our boats depart at 10 a.m., and, on weekends, our trips start at 10 a.m., 12:30 p.m., 2:30 p.m., and 4 p.m. Meanwhile, here's our pricing:
Adults – age 12 up: $45
Juniors – age 4-11: $30
Seniors – age 63 up: $40
We offer discounts on groups, such as families, companies, and a circle of friends. Just call us so we can make the necessary arrangements and offer you the best price quote.
Fully Equipped Boats Complete with Amenities
Our whale watching cruise boats are fully equipped with amenities and navigational equipment that guarantee a safe and fun trip. All our clients will have an enjoyable experience because of these amenities:
View decks for unobstructed view of the ocean and the playful marine life around – whales, dolphins, and seals
Clean decks and restrooms
Snacks and beverages are available
Comfortable inside seats
State-of-the-art navigational equipment for a safe trip throughout
Marine Life Sightings Guaranteed
Our whale watching cruise trips have allowed clients from Long Beach, CA and nearby cities to see whales, seals, dolphins, and other marine mammals. Among all companies offering such service, we almost have a 100 percent success rate in the cruise trips that we run daily. We know where to bring our boats for you to see some of the most sought-after whale species, such as Orca, Fin, Blue, and Gray whales. Our boat captain and crews are marine life enthusiasts, and we have an Aquarium of the Pacific marine mammal educator aboard every trip, so clients can ask relevant questions and get the right information outright. When you choose us, we guarantee you diverse marine life sightings that will surely take your breath away and leave you stunned.
You won't have to worry about digging deep into your pockets just to avail our whale watching cruise. Our past and repeat clients in Long Beach and surrounding locations in California love our competitive pricing, and you would, too. Starting at just $20, clients can already experience world-class service from our professional and knowledgeable crews. You would surely leave our boats absolutely happy with our service and mesmerized with the whale watching experience.
We accept early reservations, as well as walk-ins through various means including online, phone, and email. You may drop by at our office to reserve slots and ask questions about our whale watching cruise offerings. Or you may simply call our phone number so we can address your questions faster.